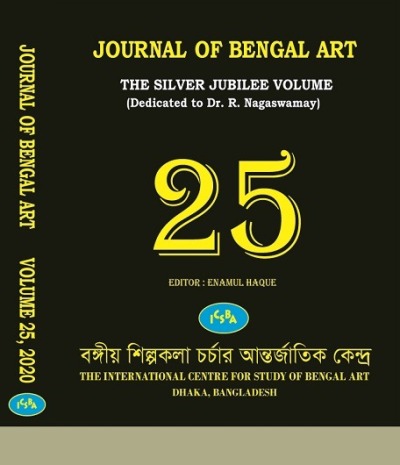 Vol. 25, 2020: 856 Pages, Plates 482 B/W and Color 143; Size 11" x 9"; Tk. 5000/ US $ 100
A K M Yaqub Ali :Aesthetic Aspects of Stone-Carving Art of Muslim Architecture of Bengal (13th- 16th Century).
Anna A. Ślączka :Lost and Found? A Note on Two Images of Dancing Śiva from Bangladesh.
Chotima Chaturawong :Reliefs of Vishnu Anantasayin: Vaishnavism of The Pyu, Mon, and Burmese.
Claudine Bautze-Picron :Unpublished or Little Known Viṣṇu Viśvarūpa Images from Eastern India
Dhriti Ray :The Portuguese Legacy Over the Bengali Cultural Heritage.
Joachim K. Bautze :Fedor Jagor, Traveller, Explorer, Photographer.
Gerald Kozicz :Considerations About the Meaning of the Stupa on Pāla Stelae
Kumkum
Bandyopadhyay :Dubba or Bhurha: A Newly Investigated Archaeological Site in South Bihar.
Madhuparna
Roychowdhury :Revisiting Greater India: Archaeology in Myanmar (Burma) in the Early Twentieth Century.
Mahua Chakrabarti
& Shilpi Maulik :Flora and Fauna Motifs in Ancient Sculptural Art of West Bengal: A Brief Survey.
Azmaree Afrin &
Maliha Nargis Ahmed :Reading Late Mediaeval Mosques of Bangladesh: Case Study on Bajrashahi Mosque and Matubi Mosque of Sonaimuri Upazila, Noakhali District.
Sunil Kumar Patnaik :Early Buddhist Art of Odisha: A Fresh Appraisal.
Sutapa Sinha :Ming Blue and White Porcelains from Gaur: Contextual Significance in Medieval Bengal.
Ratnabali Ray Sengupta :Redefining the Images from Rajarajeswari Asram of Muhuripur, Tripura: A Study in Iconography and Style.
Samuel Berthet :Sailing Across Topology: Vessels of the North-Odisha-Bengal-Arakan Arch.
Sanjay Sen Gupta :Terracotta Ornamentation on the Religious Architectures of Bengal: Gradual Deconstruction of Cultural Units Through the Expanse of Lokāyata.
Shamir Isha :The House of the Nawab at 85 Park Street and the Socio-Cultural Contributions of Sir Wasif Ali Mirza.
Sharmistha Chatterjee
& Tusar Sarkar :Vaishnavism in Bishnupur: Materiality and Practices.
Sreyashi Ray Chowdhuri :Mirroring Buddha"s First Bath in the Narrative Art of Sarnath: AComparative Artistic Analysis with Some Art Centres of North and South India.
Subrata Kumar Acharya :Sarei Plate of Narendrabhañja.
Ursula Bickelmann :The Wisdom of Drawing: Rabindranath Tagore as Visual Artist.
Andrea Loseries :Gaņapati in the Buddhist Art of Tibet and Mongolia.
Krishnendu Ray :Designing Artefacts for the Society of Early Bengal (up to 1300 CE).
Mizanur Rahman :New Research in Bangladesh Archaeobotany: Potential Issues and Future Scope.
V. Ramabrahmam :Artisans of Bangladesh: Their Role and Prospects.
R. Nagaswamy :Vangam and Tamilnadu.
Sourav Sen :Mode of Communication Through the Symbols and Rock Arts During the Early India.
Suvasree Chatterjee :Water Crafts Plying on the Eastern Sea Board: Through the Numismatic Lenses.
Mohammad Yusuf Siddiq :Life, Society and Culture of the Muslims of Medieval Bengal: Some Epigraphic Evidences.
Susmita Basu Majumdar :In and Out of the Interaction Spheres: Exploring Money in the Bay of Bengal Network.
Abhick Sarkar :Revisiting the Repoussé Coins of Chhattisgarh and Bengal.
Frederick M. Asher :Tamralipta/Tamluk: A Review.
Heinrich Poell :The Buddha Life Stelae in the Ananda Temple in Pagan and Their Relation to Pala Art.
Ramadevi Sekhar :Goddess Kamakshi in Northeast India and Tamil Nadu.
Asha Lata Pandey :Importance of Rivers in the Rigveda.
Md. Abdur Rob :Use of Imprecatory Verses Especial References in the Muslim Inscriptions of Bengal.
Naznin Sultana Niti :Water and Religion: A South Asian Perspective.
Gerd J.R. Mevissen :Bengal"s Contribution to Jaina Sculptural Art: The Introduction of Dikpālas as Subsidiary Figures.
Ankan Purkait :Understanding the Socio-Cultural Changes of 18th Century Bengal Through Company School of Painting from Murshidabad and Calcutta.
Shubha Majumder :Context of Jainism in Chhotan Museum Hotwar, Ranchi.
Sudipa Ray Bandyopadhyay :Nartteśvara or Naṭṭeśvara Images of Bengal: An Iconographical Analysis.
Mahboob Alam :Life and Society of Bengal in Late Eighteen and Early Nineteenth Century under the Gaze of an European Artist.
Syed Jamil Ahmed :Premodern Female Performers of Bengal: Representations in Collective Memory and Historiography.
Mrinmoyee Ray :Visual Narratives of Monuments as Authorising Discourses: Representation of Early Modern Temples of Bengal Through Photographs.
S M Saiful Islam :The Passing of Shah Jahan" Paintings by Abanindranath Tagore and Abdur Rahman Chughtai: A Historical Study.
Muhammed Shohrab Uddin
& Sharmin Rezowana :Aquatic Species in Terracotta Art of Pre- Medieval Bengal.
Thyagarajan Satyamurthy :Sakthi Cult in Tamil Nadu: Reflections of Bengal Tradition.
Aniruddha Maitra :Archaeological Remains from Some Sites of Western Varendra: An Analytical Study.
Noorul Islam :Coin of Ibrahim Sharki Sultan of Jounpur, His Army General Khanjahan Settled at Bagerhat, Bangladesh.
Priyanku Chakraborty :A Hitherto Unpublished Image of Buddhist Mahākāla from Tripura, India.
Niaz Zaman :The Sacred and the Secular in the Nakshi Kantha.
Aksadul Alam :Aspects of Geographical-Cultural Processes and Making of the "Personality" in Early Bengal.
Ayesha Begum :Mughal River Forts around Dhaka: An Appraisal.
Dipsikha Acharya
& Bidhan Halder :A Note on a Hitherto Unpublished Votive Tablet from Abhana/Avana in the District of Balasore, Odisha.
Nusrat Jahan :Flora and Fauna Depicted on the Selected Terracottas of Chandraketugarh.
Md. Nasir Uddin (Mobin) :Various Architectural Issues to Understand Early Medieval Buddhit Monuments of Bengal :Based on Excavated Monuments of Lalmai-Mainamati Area.
Enamul Haque :Some Observations on Hindu Iconography of Bengal.