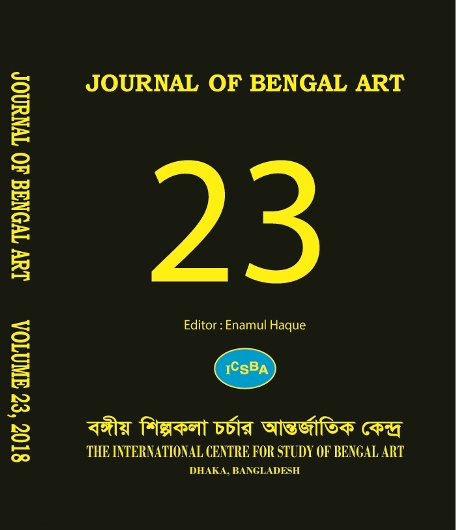 Vol. 23, 2018: 304 Pages, Plates 278 B/W and Colour 78; Size 11" x 9"; Tk. 1500/ US $ 45.
Sarita Khettry: Buddhism in Early Pundravardhana.
Noman Nasir: Iliyas Shah's Expedition on Tirhut: Numismatic Evidences.
Joachim K. Bautze : The Calcutta Cyclone of 1864: The Pictorial Evidence .
Madhuparna Roychowdhury: Making Archaeological Site Museums in Early Twentieth Century India: glimpses form Sarnath and Khajuraho.
Gerd J.R. Meissen: Sciba: Update 2: Addenda, Corrigenda, Desiderata Et Monenda to "Sculptures in Bangladesh" (2008)
Niaz Zaman: The Chakma Alam: A Treasure House of Designs
A. K. M. Yaqub Ali: Three Unread Arabic-Persian Inscriptions of Varendra Research Museum: Textual Derivatives and Calligraphic Niceties.
Durga Sankar Koley: The Formation of Society in Early Bengal- Glimpses from the Inscriptions of the 5th-6th Centuries.
Chandrima Das,
Nayana Sharma Mukherjee
& Susmita Basu Majumdar: The Asiatic Society of Bengal: Reflections on Its Medical Researches in the Eighteenth and the Nineteenth Centuries.
Pranab K. Chattopadhyay
& Rajasri Mukhopadhyay: The Origin and Development of Mirrors in Indian Subcontinent: Lady with Mirror in Art.
Subhasree Banik : Recent Discovery of the Coins of Chandragupta III from West Bengal: A Discussion .
Samhita Sen: European Influence on the Architectural Decoration of Murshidabad.
Noor Bano Sattar : Migration of a Buddhist Icon: The Muchalinda Buddha from India to the Neighboring Countries of South Asia .
Claudine Bautze-Picron
& Rajat Sanyal: An Unpublished Image of the Devi Donated during Mahendrapala's Reign and Her cult in Bihar in the Ninth Century.
Shamir Isha: The Pala-Sena Sultanate Connection with Mughal Indian Art and Architecture.
Md. Abdur Rob: Records of Shia Edifices in Bangladesh in the Light of Epigraphs.
Tanzina Akter : Depiction of Elephant in Terracotta Art of Buddhist Viharas and Hindu Temples of Bengal: An Analytical Study .
Sanjay Sen Gupta: Calavera: The Traveling Wooden Deities of West Bengal.